Larry Hinrichs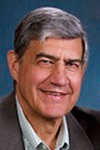 Larry & Christine Hinrichs, Owners

Larry & Christine may own Brier Realty but their first love is working directly with buyers and sellers on real estate transactions. Larry and Christine have over 60 years of combined real estate sales experience and have sold more than 1700 properties. Larry also has history in mortgage lending, land development and property management. They represent their clients with diligence, enthusiasm, and integrity.

Call or email today!
Position: Designated Broker/Owner
Phone: (425) 806-3800
Cell: (206) 948-4507
Fax: (425) 806-1919
Email: larryh@brierrealty.com